HOW TO CARE FOR AND MAINTAIN YOUR SAFETY POOL COVER OVER THE WINTER MONTHS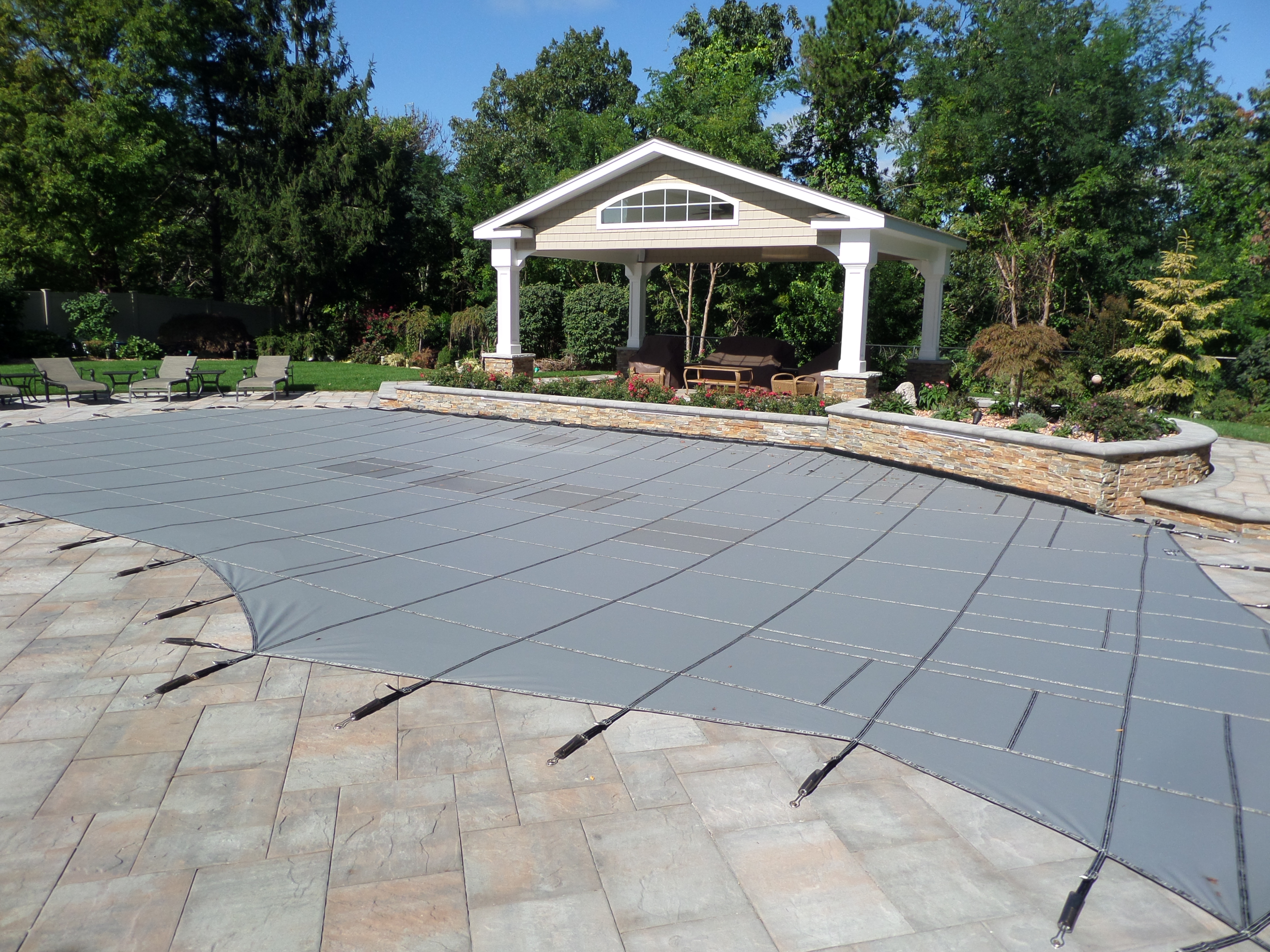 If you're reading this article, you probably have your pool covered and now you're wondering what you can do to keep your safety pool cover in great condition. Many pool owners tend to forget about their pool cover at this point but if you want it to last longer, you need to maintain it throughout the winter months. Plus, caring for and maintaining the cover can diminish the problems that typically emerge with opening it up in spring. Here are Loop-Loc's top 5 maintenance tips for pool covers over the winter months.
1. Tightness
Once your new safety cover is installed, the cover should lay taut over the pool with no sagging or gaps, like a trampoline. You may notice that the cover will slightly stretch over the first winter. This is completely normal during the first seasons of use and when the cover encounters snow loads. When re-installing the cover every winter, make sure that the straps and springs are tensioned properly again so that the cover is always lying taut and flat.
2. Water level
Maintain a consistent water level in your pool throughout the entire season. This is important for supporting the weight of the snow on the cover. Loop-Loc recommends water levels to be kept at approximately 15" to 18" below the top of your pool during the winter months. Check with your cover manufacturer for their specific water level requirements. Allowing water levels to drop too low will put excess stress on the cover and may void manufacturers warranties.
3. Cover draining:
Mesh covers will allow rain and melting snow to drain through. There is no reason to clean snow off the top of the cover at any time. As the snow starts to melt you may want to take a spring or two off and check your water levels. If the water levels are too high, the use of an automatic cover pump can be used to remove excess water under the cover. Keep in mind that water levels should never drop below the manufacturer's recommended levels, so make sure to turn the pump off when it reaches the proper level. For Solid Covers with no drain panels it is important to use an automatic cover pump to remove any standing water on top of the cover.
4. Winter Chemical Treatment: For pool water to remain clear it must have proper levels of sanitizer and algaecide at all times – regardless of whether the pool is in use. When your pool was closed, your swimming pool professional has most likely used a winterizing chemical kit including winterizing algaecide. This is a great start, as when winterized properly spring clean-up will be kept at a minimum. One month before opening your pool, or when temperatures of 60 degrees or higher remain constant, additional algaecide should be added to the pool along with additions of sanitizer to maintain proper water chemistry and reduce algae growth.
5. Periodic Maintenance: It is important to periodically check your safety swimming pool cover to ensure maximum performance. For example, in rare instances such as a tree limb causing a tear in the fabric, this may affect the cover not being able to support the ideal weight to meet the ASTM guidelines for safety covers. Inspect your cover upon installation and removal every year to make sure there is no damage that may deem your cover non-safe. If your cover is aging, speak with your swimming pool professional to see if it is time to replace your cover so that your pool area remains as safe as it can be.
Conclusion
Taking care of your safety pool cover not only protects your pool over the winter but also helps your cover to last for many years to come. Make sure that you keep a copy of your covers care and maintenance instructions in a safe place so you can read it for the future.
For more information on Loop-Loc's wide array of superb safety pool covers, pool liners, or baby-loc fencing, explore our website or contact your local LOOP-LOC Dealer today!