Holiday backyard decorating ideas
'Tis the season… for holiday decorating! The holiday season is an incredibly magical time of year filled with laughs, great meals, and precious moments with the ones you love.
The holidays are also the perfect opportunity to show off your creativity with festive decorations that allow your family and guests to enjoy your home no matter the season or celebration.
Whether you're looking to add a little extra comfort to your outdoor living space or just want to enhance your home's style in time to entertain guests, take a look at these backyard holiday decorating tips!
Top Backyard Holiday Decorating Ideas
Even though it may be a little too chilly to enjoy a refreshing dip in the pool depending on where you live, your backyard should still be considered while planning your winter get-togethers. Use the following decorating tips to get your backyard in the holiday spirit!
Nothing says the holidays quite like a dazzling string of gorgeous lights. Outline your home, patio, yard, or garage with twinkling lights, or drape them above your entertaining spaces or around your pool for an added element of shine!
The best part about outdoor decorating is the chance to use live and natural garlands without worrying about any messes. Trim garlands around entryways, outdoor dining tables, pool ledges, or around your patio windows to add a festive flare.
Just as no two snowflakes are exactly the same, your backyard can be just as unique! From lawn decorations and hanging ornaments to adding a pop of color to your safety fences, snowflake designs can turn your backyard into a winter wonderland no matter where you live!
If the snow is already falling, try building a snowman! It's a great way to spend time together as a family while creating a festive (and natural) decoration for your backyard.
Install an Outdoor Home Theatre
Consider adding a TV or projector to your backyard or patio. That way, you can bundle up with the family while you watch your favorite holiday movies!
Enjoy your outdoor spaces even longer with a fire pit, fireplace, or outdoor heater. They can provide just enough w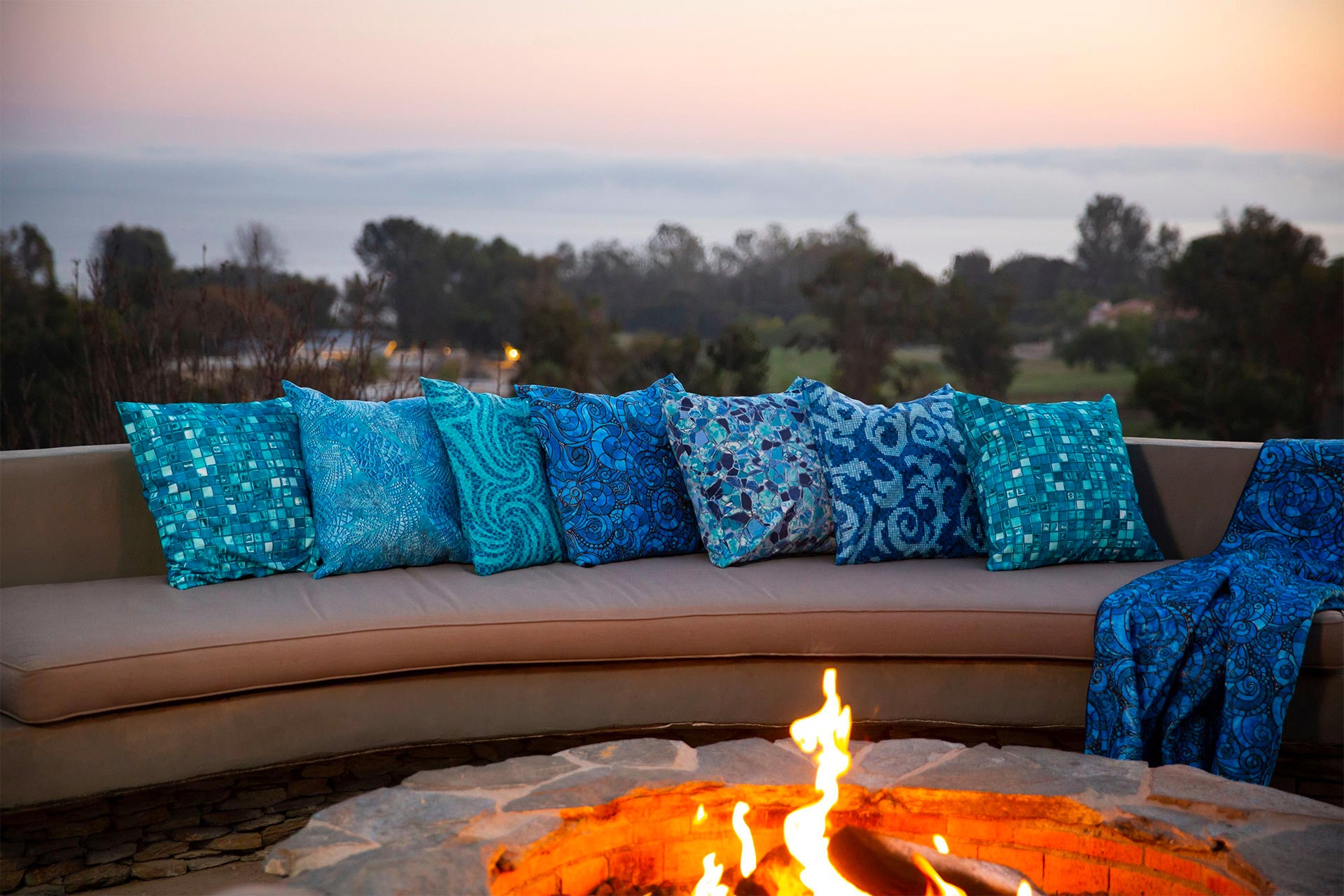 armth to keep you "nice and rosy and comfy and cozy!" Plus, they'll add extra fun to your backyard once your pool is open again next season!
Stay warm and snuggled up with beautiful outdoor blankets and pillows. They're the perfect addition to any outdoor furniture display. You can also consider planning for summer with Backyard Accents that can perfectly match your Luxury Liner and bring all the pieces of your backyard together.
Is it really the holidays without a hot cup of cocoa? Consider adding a hot beverage bar to your backyard patio. That way you can enjoy delicious hot cocoa, coffee, tea, or cider while you snuggle up under the twinkling lights!
Winter Friendly Landscaping
Add a pop of color to your backyard all winter long with plants, shrubs, and trees that can withstand the cold. They'll help fill up the space and will be another place to demonstrate your decorating skills with outdoor lights and ornaments.
Bring Your Holiday Parties to Life
From gift exchanges to New Year's Eve celebrations, you should be able to revel in all the good memories you've made throughout the year. And your outdoor living spaces can be just the venue to take those moments to the next level!
LOOP-LOC is dedicated to combining fun with safety so you can enjoy stress-free holidays all season long. With products like Safety Covers and BABY-LOC Fences, we can help provide an added layer of protection to your outdoor entertaining spaces to help keep your family and house guests safe.
Be sure to explore all of our product options to ensure your backyard is ready for any holiday celebration!